Joey Deriquito
Content Writer
Nothing excites Joey more than a tank full of gas and an open road. He yearns for knowledge, always studying and researching about cars. Many of his friends would say that his car is an extension of himself, always able to observe when even a single bolt is out of place.
@AutoDealPH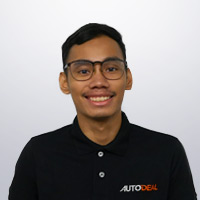 If Geely Philippines were to update the crossover these might be the likely changes that will be done.

The Japanese performance car is getting long in the tooth but its next generation will reportedly come with electric power under its hood.

Mother's day is just around the corner, with that in mind we created a quick list of things you can gift or do for your mom on their special day.

A new generation of trains will soon be plying the LRT-1 route after preliminary testing has been completed.

Going on a long drive or just want something comfortable? Here is a quick look at what our writers recommend in terms of footwear for driving.

It presents itself as a great compact crossover choice for those who don't want to be overwhelmed by a great amount of tech.

3.9

/

5

The new dealership will make sure that prospective customers in the area will have everything they need for a great ownership experience.

Hyundai is continuing its momentum in the PUV segment as it turns over more of its models to local transport cooperatives.

A new challenger has entered the 7-seater arena in the form of the Toyota Veloz.

Owning a car doesn't just stop with maintenance, you need to be familiar with the features that it carries and how to use them.

The next-generation Ford Territory isn't out yet, but this could be your first look at it thanks to Ford Cambodia.

Does the Changan CS95 have what it takes to challenge the more established players in its premium segment?

3.7

/

5

It looks like Ford Motor Company is preparing some special technology for some of its upcoming off-road models.

Two standard safety features on cars today that serve the same purpose of keeping you safe but utilize different means to do so.

The new dealership will be able to service and sell the brand's lineup of vehicles from the Isuzu D-MAX to its heavy-duty trucks.

Scania will supply 15 electric trucks to the waste collection company ALBA W7H Smart City in Singapore.

After teasing the new Veloz, Toyota Philippines has confirmed that it will be launching the new vehicle on April 29. 2022.

This could mean that Lexus is planning to launch or develop a new LC in the coming months.

The new Haima 7X brings with it a competitive feature set, a 1.5-liter turbocharged motor, and an attractive price point.

Picking an MG vehicle that best suits you can be a difficult task, but we are here to help with this quick list.

A quick list of cars for the buyer that wants an extra layer of protection while still being able to look inconspicuous.

It looks like Toyota is staying true to its promise of no longer releasing boring cars and is listening to its fanbase.

We answer a few frequently asked questions about traction control to give you a better idea of how it works and what it is for.

Another new vehicle is set to join the local Toyota lineup with a possible launch happening on April 22, 2022.

It is still in the early stages, but this new technology could help with the cargo network across the globe.

It could help lessen the amount of traffic that regularly plagues Metro Manila.

Meet the newest sedan to enter the Geely Philippines lineup, seeking to shake up its segment with a robust feature set and competitive price point.

4.1

/

5

With the sky-high gas prices, these fuel-saving tips could come in handy.

The automaker is further expanding its reach within the commercial vehicle market with the new X100.

This is what the future of Nissan vehicles in the Philippines could look like as the Japanese brand further pushes for electrification.

Things are looking up for Geely as the automaker also plans to further expand its reach in the local market.

Let us help you find the right Lexus for you, as the Japanese luxury brand has many models on sale for you to choose from.

Along with the new model, the Lion brand is also doubling down its expansion plans in the Philippines.

Continuing its momentum with its popular model the Coolray, Geely Philippines had added more variants to its local lineup.

Hatchbacks are a dying breed in the Philippines and there are a couple of strong reasons why you shouldn't get one as your daily driver.

The 2023 HR-V features a radically new design which is a far cry from its much smaller Asian counterpart.

Counterflowing may be a tempting proposition, especially in traffic, however, it isn't worth it as you could be endangering yourself and others.

It looks like Nissan has a fully stacked lineup for MIAS 2022 as it will showcase its e-Power technology and launch a new limited edition variant of the Navara.

The addition of these seven FUSO FJ 25285R units will help PCL with its goal of providing better service to its customers.

The addition of contact information to your car's registration was done as part of the government agency's migration to its new LTMS system.

The GR Corolla will join the likes of the GR Supra and the GR Yaris, in the brand's ever-growing line of Gazoo Racing vehicles.

Car manufacturers can sometimes miss the mark when it comes to naming their vehicles, but when they do, some often end up with hilarious results.

Ford wants to expand its lineup of off-roaders by introducing the F-150 Rattler, a budget off-roader that's ready to take on the road less traveled.

We compare the MG HS to the established Ford Territory to see if the new kid on the block has what it takes to challenge the established player.

Find out if after the new car smell has been gone and a few miles have been put onto the vehicle if Nissan owners are still satisfied with their cars.

The Geely Emgrand Comfort does not come with the sporty driving dynamics as its stablemates, but it does check the right boxes of being comfortable and fuel-efficient daily.

Honda Philippines is expanding its presence in the country by breaking ground on its new facility in Bacoor Cavite, marking it as its 38th dealership nationwide.

The issue with the wrong certification for a certain number of Hino's engines continues as the truck maker recalls vehicles with its A05C engine.

With the testing underway, this could be part of the first few steps forward for the creation and improvement of the electric vehicle infrastructure in the Philippines.

The new Indonesia specced HR-V comes with interesting engine choices, especially with its new 1.5-liter turbocharged motor under the hood of the RS variant.